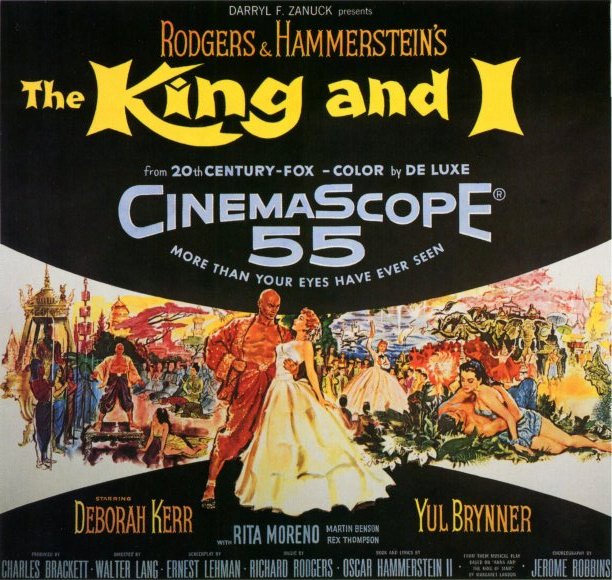 It's interesting how in this King and I poster from 1956 they've amped up the racial difference and sexual energy between Yul Brynner and Deborah Kerr. I mean, Yul is not that dark and things don't get that sexy. But making the exotic erotic sure sells tickets.
I've always thought Rodgers and Hammerstein were very progressive. They made a big effort to tell different kinds of stories; of diverse cultures and people to expand the types of things a mainstream audience is exposed to. I mean, rock on for wanting to examine 19th Century Thailand. Rock on for thoughtfully addressing (and endorsing) interracial relationships in a time of segregation(!) in The King and I and South Pacific. Rock on for using an all Asian cast in Flower Drum Song. There's definitely problems with the representation of 'other' races and cultures in these films, but for the time it's impressive. Hell, in this time it's impressive. Do you think nowadays Hollywood would make a film with an all Asian cast? Even Lucy Liu can't find work in movies anymore (fingers crossed for Elementary, Lucy Liu)!
Rodgers and Hammerstein were extraordinarily talented and successful songwriters and storytellers, and they used their skills to make the world a more tolerant place. They must have gotten cerazy pussy.