Pop Culture + Third World = KONY 2012
There is a lot to say about Kony 2012.
Here's a quick rundown of the film's uprising:
*The film, created by the advocacy group Invisible Children, proposes a strategy on how to stop Joseph Kony, the Ugandan warlord who for years has been raiding Ugandan villages, killing the adults, stealing the children and turning them into soldiers and slaves.
*The film argues that the best way to take down Kony is to make him famous. That is, if people worldwide know of his crimes they will put pressure on the US Government to provide military resources to the Ugandan Government to track him down and capture him.
* Overnight, this film touched, politicised and rallied millions. But just as quickly, it attracted serious blowback.
Here's a quick rundown of the film's criticisms:
*Kony has been on the decline for years. Further, he is no longer even in Uganda (he's in/around the Sudan). So resourcing the Ugandan military may not be an effective move - and resourcing them might be problematic in itself considering the Ugandan military, themselves, has a reputation for raping and pillaging.
*Invisible Children is a shady organisation, due in part to the fact that it's three heads get paid quite well (approx $80K each) and not enough of people's donations go to directly benefiting Ugandans.
* The whole thing smacks of White Man's Burden - that is, these white Americans think it's their role to 'save' this African country through (US) military intervention, rather than keeping their nose out or finding ways of helping the Ugandans to help themselves.
* The film itself is too slick, emotionally manipulative with factual inaccuracies.
* The filmmakers seem to be cloying, annoying, self-righteous nasal American hippy hipsters making the film slightly insufferable. (This was mainly raised by Vice.)
And here's Invisible Children's official responses to these criticisms.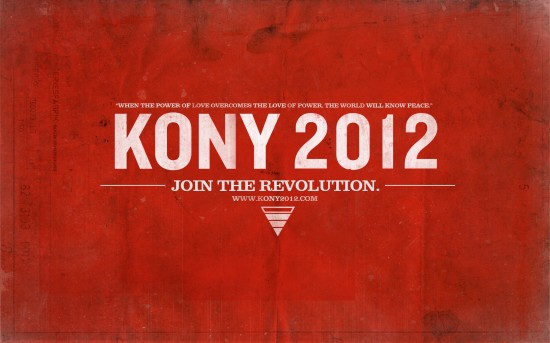 My thoughts:
* I believe that the filmmakers are well-intentioned and I really doubt that this is all just a scam to make money. This really doesn't strike me as the way you'd go about a get-rich-quick scheme. If a lot of their budget goes into making these films, I think that's fine - their focus, after all, is on raising awareness. If you think a better use of the money would be on more directly providing resources to the Ugandans in need, then donate your money instead to one of the plenty of charities that do that. It's OK for different charities to have different focuses. Even if they are not spending their money in the best possible way, I think that should be chalked up as a flaw in their model, rather than as evidence that the whole things a con.
* I'm not an expert, but I'm very sceptical that US military intervention/aid to the Ugandan government is the answer. So those criticisms I think I agree with. Amber Ha raises some very good arguments on why this is a mistake (though, I wish she provided some evidence to back up some of the claims she makes).
*The whole thing does smack of White Man's Burden, and reminds me of the criticisms George Clooney faced with his views on how to stop the fighting in Sudan. I discussed them here. That is, Western intervention in a complex local struggle, only complicates things and sometimes emboldens the enemy (who can now claim to be fighting against those damn white imperialist devils).
*I'm OK with the film being slick and emotionally charged. My problem, however, is that the emotion charging the film is the desire for justice (or vengeance) for this horrible wrong. I don't think this is necessarily the best motivation. The emphasis seems to be 'we need to get Kony and we'll stop at nothing till he's at the International Criminal Court!!!' - but really the objective should be, let's try and keep the body count to a minimum. That might mean, instead of seeking strikes from the Ugandan military backed by the US and the inevitable counter strikes from Kony (it's important to note that attempts to capture him have been made before, and they've simply ended with more bloodshed and Kony on the loose) maybe the best way is to let his reign follow the gradual demise it's already on? We won't get the satisfaction of seeing this horrible person have his day in court, but ultimately less lives will be lost.
* What I really like about all this, is that it has got young people thinking about Third World politics. And a genuine discussion has begun about the right and wrong ways for the West to intervene in developing countries (a discussion that has been a double edged sword for Invisible Children). It's nice to see these kind of debates getting an airing outside of the usual circles - the kids normally talking about Bieber are now talking about Uganda. That's an amazing (and positive) achievement.
Concluding thoughts:
Again, I want to say I'm no expert. But that's kind of the point. I don't know anything about this complex country so I shouldn't really have a say on what's to be done in that country. More to the point, Western (military) intervention in these kinds of situations have not only proved ineffective in the past - they've proved to create more problems, adding more messiness (and more guns) to an already messy situation. That doesn't mean we should do nothing. But it means we should be tactical about it, and focus our attentions on finding ways of helping the Ugandans to help themselves. That's easier said then done. I applaud Invisible Children for caring, thinking outside the box and actually getting off their ass and committing themselves to finding a solution. What they've achieved is amazing. But that doesn't mean we should just go with their solution cause its the only one on the table - or the one on the table that's gotten the most retweets.
NOTE: I wanted to write about this because it's extraordinary how KONY 2012, in itself, automatically became a part of pop culture. And like any overnight pop sensation, it went from being the darling of the scene to the subject of scorn within seconds.  It's also interesting how much of their strategy relies on pop culture: it's about making Kony *famous*; about using social media, street art and celebrity endorsements to make their message become part of the zeitgeist. While I ultimately think the content of their message let's them down (I don't think US military intervention/resourcing the Ugandan military is the answer), this tactic has certainly proven effective. And the idea of making war criminals as famous as George Clooney kinda has merit. They are trying to use social media and the idea of pop culture in contemporary times in new and more substantial ways as a tool of activism. Maybe this experiment will fail. But maybe other NGOs will learn from this failure, tweak and improve upon this model for raising awareness and get better results. It all has to start somewhere.