Sesame Street and the Third World
Sesame Street for Afghanistan will be starting soon.
And that's not the only low-income, violence ravaged country the Sesame Street team have opted to produce a version for. In fact, low-income and/or violence ravaged countries appear to be their focus. They do not appear to make different versions of Sesame Street for rich Western countries where there isn't as much disparity in children's experiences from those in the American version. Here are some examples:
Palestine: The locally produced version of Sesame Street (called Shara'a Simsim) aims to deal with the anxiety, fear and depression faced by Palestinian kids. They try and provide positive role models for boys (who feel pressure to defend their families and society, becoming disheartened when they are unable to do so) by suggesting activities and hobbies that provide healthy non-violent outlets for complex emotions (eg. play sport, join the Boy Scouts). For girls, there is the 5 year old female Muppet named Haneen. She enjoys being in the limelight and has a positive attitude about what she can accomplish. Her catchphrase is "I can! I can!" and she puts her money where her mouth is, sometimes dressing up as superhero "Super Haneen." The show does not contain any direct references to the region's political situation. It does, however, include age-appropriate stories intended to help children develop tolerant and sympathetic attitudes toward other people.  UPDATE: This version has had its US funding cut so its future looks bleak.

Northern Ireland: The Northern Ireland version of Sesame Street (called Sesame Tree) involves a 'question tree' which encourages kids to ask questions on difficult or sensitive topics. The cast of monsters then spend the rest of the episode seeking answers from adults, kids and other monsters. The underlying message is about encouraging sharing, openness, curiosity and appreciating the diversity of Northern Ireland from a child's perspective. For example, one segment shows children playing Double Dutch in an inner-city Protestant neighborhood; another shows a young boy practicing his drum to play in an Orange March parade; there's a "traveler" child who lives in a trailer;  a disabled boy who goes to the park with his Dad to feed the ducks. A lot of the segments directly address children's questions about the differences between groups of people, as Northern Ireland's Polish, Indian, and Chinese populations, among others, are growing rapidly and experiencing some prejudice.
Nigeria: The Nigerian version of Sesame Street(called Sesame Square) premiered in May 2011. It wanted to assist with Nigeria's educational challenges: approximately only 60% of Nigerian children attend school (monetary costs are a problem; families need children to stay home and work; substandard living conditions, malnutrition, infectious diseases such as malaria also make it difficult to fill classrooms). Sesame Square, therefore, does what the Sesame Workshop have always excelled at – teaching the basics such as literacy and numeracy. It also teaches health and hygiene with a specific focus on HIV and AIDS. It also teaches tolerance and acceptance with the introduction of Kami (pictured below with Elmo), the 5 year old Muppet who is HIV-positive after her mother died of an AIDS related illness. The emphasis was on making her relatable and fun, someone children can love and trust, learn from and find easy to accept.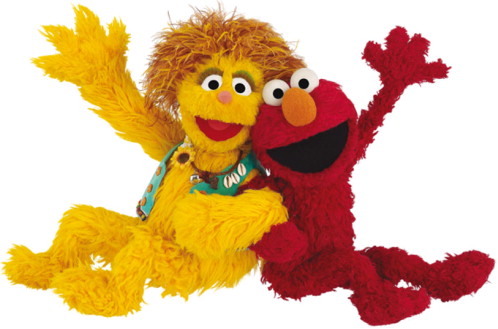 I know what you're thinking: crossover potential. Like the epic World Idol episode they only did that one time before realising it was terrible. I wonder if the Palestinian muppets and Israeli muppets have ever had a crossover?
Anyway, I think these efforts are nothing short of awesome. And I don't think arguments that these are forms of cultural imperialism hold water. It is hardly an external influence imposing themselves on locals: the emphasis is on engaging local producers to get them to develop and produce the content for themselves. Further, the Sesame Workshop and these local producers are known for doing indepth research into what messages they're sending to these children and are constantly sensitive to what is appropriate and inappropriate for kids (perhaps too sensitive. Katy Perry's boobs where fine IMHO).
I remember once seeing a questioner ask Noam Chomsky whether it's ever OK to go into another country and try and teach them what 'we know' in the West. He said of course. It's not always imperialism. He likened it to going to some poor inner city area in America and teaching kids maths. There is a line to be drawn when the teachings are politically loaded or are for some sort of political gain - but a lot of valuable things that 'we' can do to help 'them' fall under that line. Here, 'we' are not really teaching them specific things about what Americans (and other First Worlders) think is appropriate child rearing. With the emphasis on local productions providing the teachings and ideological underpinnings, it seems the Americans are just providing the puppets (which is a nice reverse: normally Americans provide the ideology and the poor countries provide the puppets. BAM).
It is a tricky thing to know what is appropriate and inappropriate to teach kids - especially kids living in the harshest places in the world. But because it's difficult doesn't mean it shouldn't be attempted. These kids need all the help they can get, and Sesame Workshop should not only get points for making the effort to help, but for doing so in a sensible, well-thought out and inclusive way.
For a rundown on all the different versions of Sesame Street from around the world, click here.

For an article discussing accusations that Sesame Street has an active left-wing political agenda, click here. 

For the infectious new song for the American version encouraging kids to 'Change The World', click here.

For a look at the American version's new 'poverty-stricken' muppet, Lily, click here.

And, lastly, apparently Sesame Street would end if Mitt Romney becomes President. For that story, click here.
               Grover promoting Sesame Street in Afghanistan.